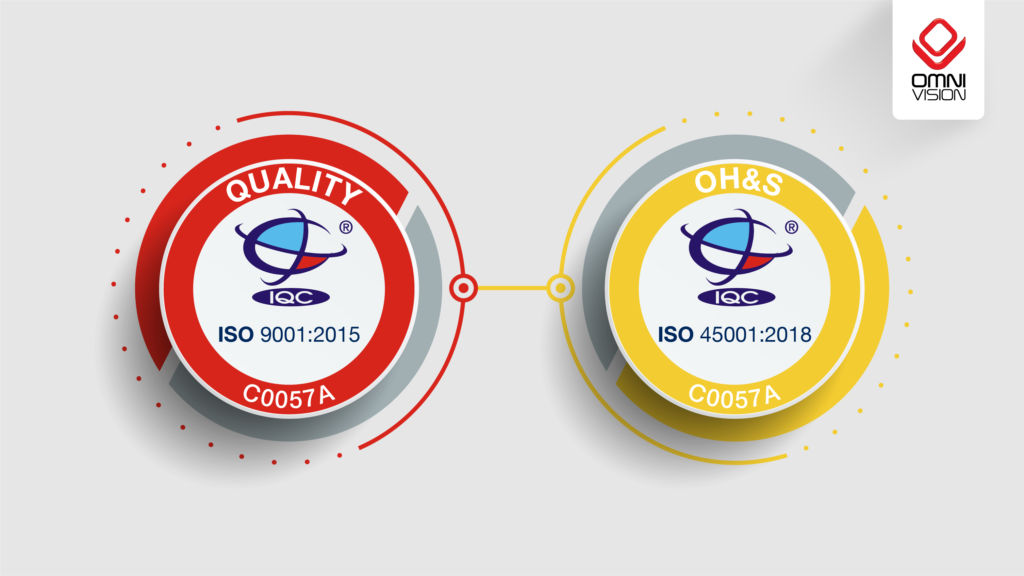 OmniVision received ISO 9001:2015 and ISO 45001:2018 on 4th May 2020, for their Quality Management Systems and Occupational Health and Safety (OH&S) Management Systems within the scope of Installation of Security Systems. As a key player in the Australian security industry, OmniVision has made head waves in the last two decades bringing tailor-made surveillance and security solutions to the market.
The ISO 9001:2015 is the latest ISO quality management standard, which specifies that OmniVision provides service levels that meet the client's and regulatory requirements consistently, as well as with the aid of continuous improvement.
Achieving these levels of compliance and accreditation was an essential step for OmniVision to ensure that clients received the standards expected. To achieve the ISO certifications, ensuring quality management, continuous improvements, and assessing risks of all business processes was conducted was essential to OmniVision.
The new ISO 45001:2018 replaced the previous OHSAS 18001:2007 standard, and species conformity of excellence and good practices of Occupational Health and Safety Management Systems with emphasis on prevention systems, and commitment by OmniVision towards continued improvements for a healthier and safer environment for its working family.
The accreditation audits for both compliance certifications were carried out by the certifying agency, Integrated Quality Certification Private Limited. With the complete assessment and audit, and becoming an ISO certified company, OmniVision is delighted to have achieved this status to back up the hard work carried out by the OmniVision team.
Find out more information on other Accreditations, Awards, and Certifications that OmniVision has received over the years by visiting our webpage on Compliance and Certification.