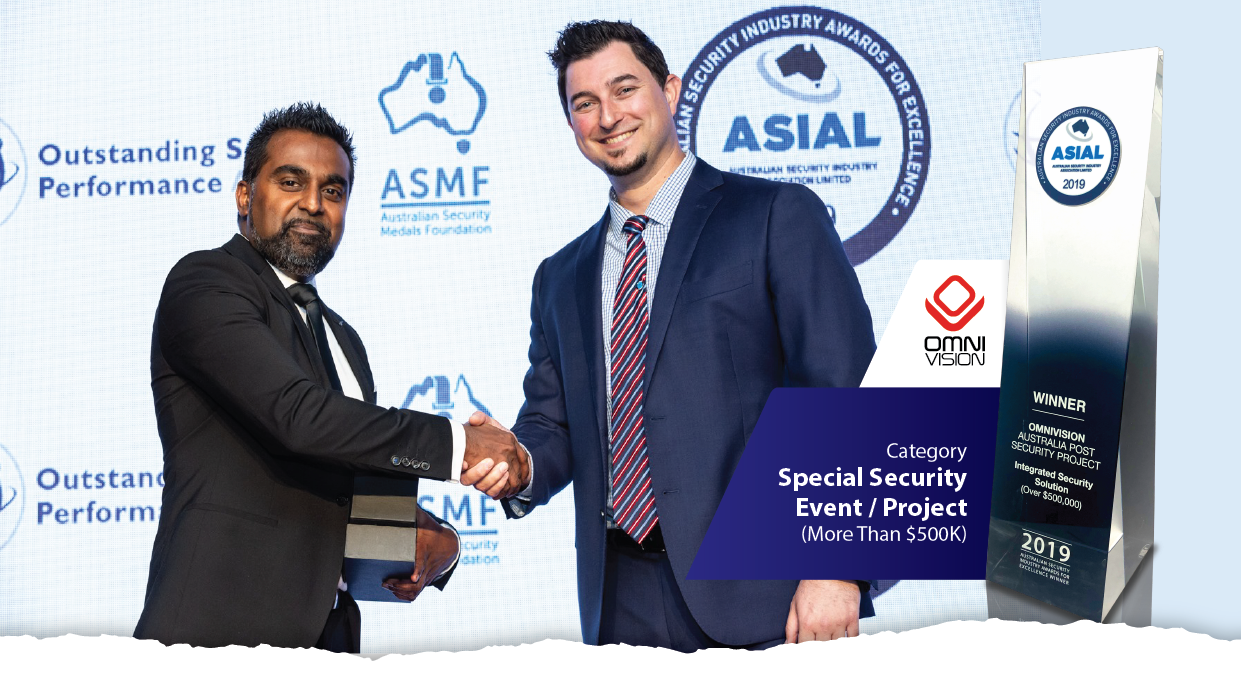 OmniVision is proud to announce another win at the recent Australia Security Industry Awards for Excellence event conducted by Australia Security Industry Association Limited (ASIAL).  OmniVision were the WINNERS for the Award in Excellence of the Integrated Security Solutions Category (over $500,000) for the successful and seamless upgrades to four of the largest mail and parcel distribution centers of our esteemed client, Australia Post. The OmniVision Team were able to implement an excellent integrated management system. By upgrading the existing security system with the inclusion of an IP Video Surveillance, Access Control System, Intruder Detection System, Intercom System, Secured Communication Network and Monitoring System and integrating it with a centrally managed national command and control centre (known as the National Operations Control Centre – (NOCC)).
The OmniVision Team implemented the upgrades at seven locations, and installed more than 1,000 cameras and over 500 access control doors to ensure the facilities are secure. The project required for high-level integration and customized licenses for the VMS, not to mention data warehousing and virtual distributed systems integration for the system works seamlessly.
The 2019 Australia Security Industry Awards for Excellence which was founded by the Australian Security Industry Association Limited (ASIAL) has been in operation for the last 24 years. Since 2015, it joined hands with the World Excellence Award to introduce and establish the Outstanding Security Performance Awards (OSPA) program in Australia. The 2019 ASIAL Awards was held on 17th October 2019 with the help of Australian Security Medals Foundation to ensure that key players in the Australia Security Industry are committed and aspire to improve and advance the industry and community further. With three industry awards programs held under a single event, it was a celebration of achievement and excellence within the industry.
We, at OmniVision, are honored and proud of this achievement, staying true to our mission and vision, and corporate values of ensuring excellence to our customers with commitment and innovation. We would like to thank our client, Australia Post and its Group Security, IT and Group Property teams for working with us seamlessly to ensure its success. We would also like to appreciate and recognize the hard work and commitment of each member of the OmniVision family as well as our solutions partners Geutebrück, Axis, HID and Inner Range for their continued support.